Tuesday, December 27th, 2016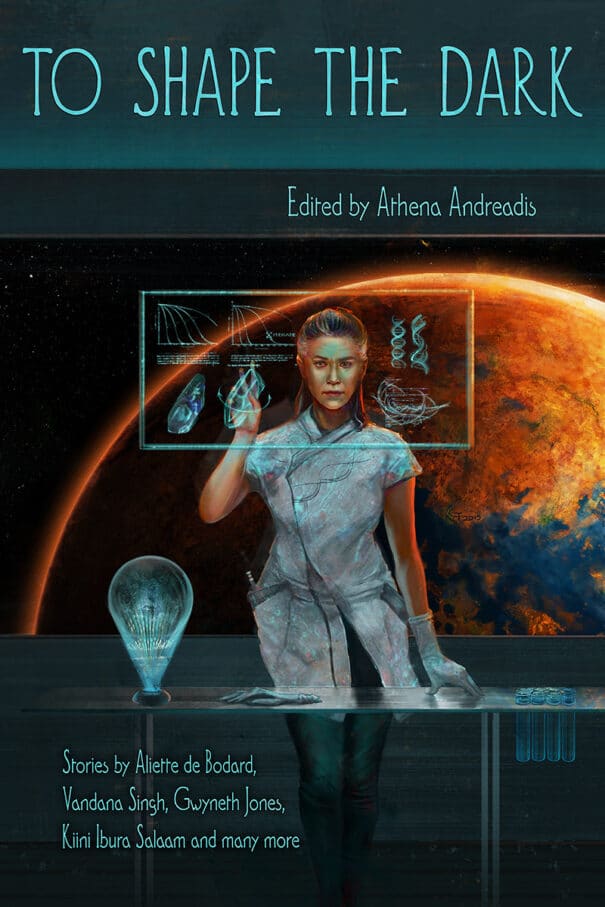 To Shape the Dark, the younger sibling of The Other Half of the Sky, focusing on women scientists doing science not-as-usual, has become as widely acclaimed as its illustrious predecessor: among other recognitions, it won a starred review in Publishers Weekly, and two of its stories have been selected by Gardner Dozois for his Year's Best SF 2016 (Melissa Scott's "Firstborn, Lastborn" and Shariann Lewitt's "Fieldwork").
To deepen the readers' enjoyment of the antho stories, I asked the contributing authors to share thoughts about their works. Below are some of their musings. More musings will appear after the new year.
Constance Cooper: Carnivores of Can't-Go-Home
I decided to write about a botanical survey after hearing my husband's stories of childhood trips with his dad the botany professor, driving across the country with bundles of specimens tied to the roof of the car. What, I wondered, would it be like to do that on an alien planet? For me, it was a short step from there to giant carnivorous plants and a murder mystery.
On a deeper level, I tried to imagine how it would feel to grow up knowing you were a stranger on your planet—not part of the fossil record, not related to any local species, separated from the animals and plants that have been part of human culture for millennia. And what if the humans weren't there by choice? How would that affect people's attitudes toward their world? My botanist characters are among those who've embraced their new home. They find their work so involving that they can't stand to leave it–even to take a shower after getting slimed by an enormous pitcher plant.
M. Fenn: Chlorophyll Is Thicker than Water
My story "Chlorophyll Is Thicker than Water" got its start with a suggestion from my alpha reader and husband Roy, who wanted me to write a tale about an old woman who was known as a plant wizard in her community, but there was more to her knowledge than anyone suspected. My first thought was witchcraft, but doing some research into the science of plant intelligence inspired me to make my characters be scientists conducting their own research. Choosing to make these women Japanese-Americans who had been interred during World War II came about because of my reading about George Takei's play Allegiance. What started as a minor point of back story eventually manifested into strong motivation for my characters.
Also, I love writing about old women. They just don't have time for anyone's silliness. While Susan and Hina bear little if any resemblance to the witches in Terry Pratchett's Discworld books, Granny Weatherwax and Gytha Ogg were certain influences in the creation of my own powerful old women. A point of interest that some might find amusing: while all the human characters are fictional and not based on any living person that I know, the parrot who lives at Whitman's Feed Store in North Bennington, Vermont, is very real, although not named Tony.
C. W. Johnson: The Age of Discovery
I have been writing a sequence of stories revolving around a particular technology, the Casimir pump (which is not real, but the Casimir effect is), and had vaguely thought of a story line involving some of the first applications. I wanted it to be a story about the love of discovery, and wanting to invert the commonplace trope of the heroic lone inventor, I wanted to place it in the context of heavily bureaucratized research. I needed my protagonist to have a foil, and I realized the best additional context to the love of discovery is the discovery of love. From these pieces I wove, with many fits and false starts, my plot.
Jacqueline Koyanagi: Sensorium
The central concept for Sensorium is that of communication across umwelts. If it is a fundamentally unique cognitive experience to be a particular species, then language alone falls short as a vehicle for cross-species communication. I wanted to briefly explore what might happen when those cognitive barriers are broken down technologically–particularly to the people who submit to a neural connection that dissolves the stark delineation of "the individual" that we are accustomed to. What does it mean for a mind if awareness expands beyond its natal umwelt? What changes occur when previously inconceivable sensory experiences are now accessible? What, then, does it mean to be a person? These are the questions that fueled Sensorium and the attendant books-in-progress.
Susan Lanigan: Ward 7
When I was approached by Athena to contribute to her new volume, To Shape The Dark, I was very excited but also a bit anxious. It had been a while since I had written short fiction that was longer than 1,000 words and I knew it would be necessary to construct a small universe in a short space of time. Also I tend to adhere to "hard" sci-fi rather than space opera, so I tend to stick to the near future rather than its more distant counterpart, just as I stick to the nearer past when writing as a historical novelist. Working with Athena was a pleasure as she proved to be a diligent and sensitive editor and I hope to repeat the experience again sometime.
Shariann Lewitt: Fieldwork
The moment I read the parameters about stories for TO SHAPE THE DARK, I knew I had to write about science that takes place in the field.  Most people think scientists wear white coats and work in climate controlled labs, with a rest room down the hall and a coffee bar down the street.  When I studied Evolutionary Biology as an undergrad, I learned about fieldwork the hard way, on a dig.  While I realized I definitely preferred climate control, rest rooms and coffee bars (and ended up in computational biology), I have always had the greatest respect for those who go out into the field and I knew I had to write a story that highlighted a way that science is really done–and that rarely comes to mind.  I had also just finished reading a number of articles on Europa, and a friend who works for NASA's climate research group was posting pictures from his mission to Antarctica to drill ice cores.
Those things knocked around together in my head and out came Anna Taylor.  Irene came from a more complex and personal place, but also from a desire to turn around the SF trope on the "genius kid who saves the world."  Because Irina is that kid–but she has to suffer the consequences as well, and later face her own very deep fears because she understands what drives Anna.  This story is immensely personal for me, both from a family perspective, and from my relationship to work I've done in science as well.